Body
Our Libraries
Your library card is always good at both of our library locations in Lebanon and West Lebanon.
Our Mission
The Lebanon Public Libraries are committed to open access of information and resources for all persons. We are a gathering place for the community and provide materials selected for educational and leisure enrichment. We support people in their search for self-directed personal growth with the assistance of a staff dedicated to quality service and responsible fiscal management.
Lebanon Library
History
The Lebanon Social Library was formed in 1802, offering between 300-400 books to the citizens of Lebanon. By 1889, it was known as the Lebanon Free Public Library, and was housed in the Grand Army Hall of the Soldiers Memorial Building, a stone's throw from the library's current location. At that time, it is estimated that the library contained several thousand items.
The Lebanon Public Library's present location was built in 1909 with $12,000 from private donations and an additional $12,500 grant from the Andrew Carnegie Foundation. The building was designed by the Boston architectural firm of McLean & Wright. A children's room was added to the basement of the building in 1958. An addition was added to accommodate the growing collection of books and materials in the 1980s. This addition which currently houses the children's, young adult, audiobook, and non-fiction collections, is named after former New Hampshire governor and Lebanon resident, the late Lane Dwinell.
The Lebanon Public Library now circulates over 40,000 items including books, magazines, audiobooks, Chromebooks, museum passes, and more.
Kilton Library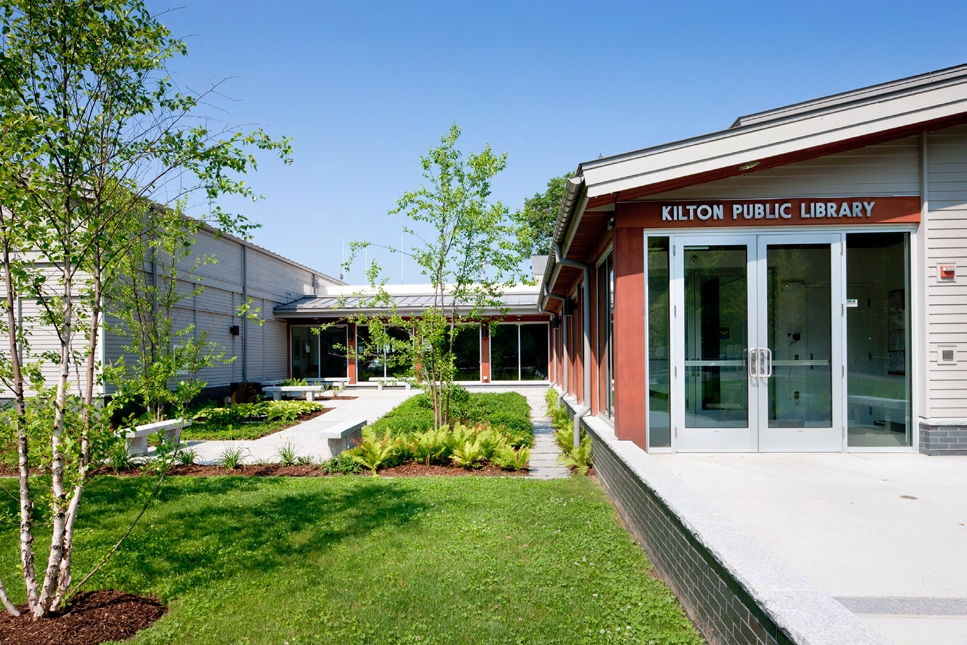 History
The library for West Lebanon was originally constructed on Main Street in 1909. Due to an increase in patronage and resources, the original West Lebanon Library no longer had sufficient space to address the community's needs. The West Lebanon Library began fundraising for a new library with the initial gift of 1.3 million dollars from James and Willena Kilton of West Lebanon, which went towards purchasing the land where the new Kilton Library now stands. The West Lebanon Library was renamed to Kilton Library, and opened in July 2010 across the street from the former library location. Elements of the former West Lebanon Library were retained for use in the Kilton Library, such as the Palladian stained glass windows from Tilden Seminary alumnae in memory of their teacher Dr. Hiram Orcutt.
Features
The Kilton Library serves as a community hub by providing three meeting rooms that are available to the public, including one that seats up to 100 people. In addition to the meeting rooms, the library offers a gallery space showcasing the works of local artists, a kitchen, an AV system, and a beautiful courtyard. The Kilton Library is also the site of twenty-three community garden beds.
As the first LEED Gold new library in New Hampshire, the Kilton Public Library is a demonstration of sustainable strategies. Key features include:
ground source heat pumps
radiant floor slabs throughout
automated daylighting controls
occupancy sensor lighting in bookstacks